I remember a time when I used to ride my bike and skin my elbows and knees. I rode too fast and took most turns too sharply. I got back up and skinned them again like every kid.
Now I ride horses and haven't touched my bike in weeks. I still ride my horse fast but sometimes I don't let go of the gate quick enough when I am closing it. I still land and skin my butt though.
Thanks for that one Indigo.
I remember a time when I used to ride Indigo in a bit.
Her mane was grey and not the silver you all see now. She just had her 13th birthday.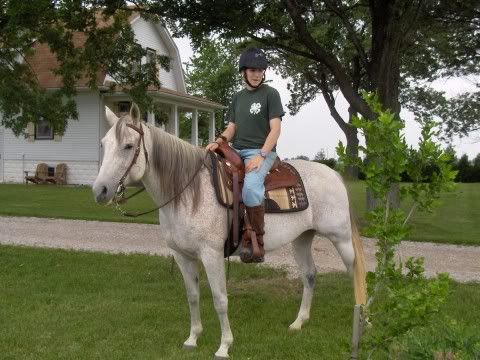 (Apparently I did not have an ounce of fashion sense either because I look like I weigh 300 pounds in my baggy barn bum clothes I loved so much way back when. At least I was wearing my blundstones)
She was light, responsive and seemed perfectly comfortable in a bit. Science told me otherwise.
Shes completely bitless now, how time flies.
I remember a time when I did not have a computer.
Wait, scratch that. I remember a time when I did not have internet and rely on it to get things done, like things that make me money. A job, writing, photography.
Now I need a computer. One that works.
I remember a time when said computer worked. I mean the computer that works my external hard drive and stuff because my other one refuses to accept the terms my external runs by.
Now I have one fried hard drive and a second computer that will not run my external with
everything
on it.
I remember a time when I fixed a lot of computers and built a few too.
Now all those extra parts and things I accumulated have been given or thrown away. I regret this now because the parts I need are long gone.
I think I want to go back to remembering what it was like when, minus the bitted part. Until I snap out of that I probably won't be around to as many blogs to comment because memories don't fix computers. Rest in pieces dear main computer.